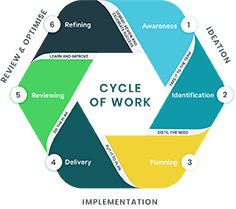 As organisations navigate new ways of working digitally, understanding the cycle of work is essential to deliver innovative and successful work. ASI Solutions has developed an easy-to-implement, six-step methodology to help businesses embrace technology solutions and gain maximum value. This methodology supports organisations to achieve the best outcomes.
This blog series explores the various phases within the cycle of work methodology and highlights the ways organisations can benefit from a more strategic approach to digital work.
Step 5

: The cycle of work: reviewing projects for potential improvements
By the time a project team has worked through the various steps of the cycle of work, they could be forgiven for thinking the hard work is done. However, stopping after the delivery phase could cheat the organisation out of a valuable opportunity to learn, repeat, and improve for even better outcomes going forward. While the problem at this point is considered solved, a debriefing process is important to compare what's been done against the original problem or opportunity, and verify that benefits have  been realised.
In this step of the methodology, teams must analyse and review all data points and refer to the original problem statement and plan. This step is sometimes overlooked due to fatigue or not understanding the importance of reviewing the project. However, after organising and implementing a project, a project manager can use a review to compare the planned results with the actual results and decide if further action needs to be taken.
Data provides clarity and context
The review step requires employees and teams to capture feedback and collate data points across multiple sources. They should also develop dashboards or other data visualisation tools to report back to project leads and present results or outcomes to all the participants. However, conducting a post-project review can be challenging with a hybrid business, meaning that teams will need to find effective tools to collate, develop, and present results in ways that are easy to understand.
To do this, organisations can leverage user-friendly co-authoring solutions so hybrid project teams can work together with other participants to measure and review data. Doing so will ensure the project has delivered a strong return on investment (ROI). Solutions such as Microsoft Forms, Excel, Power BI, and Sway can be crucial in such situations.
For example, businesses can capture feedback using Microsoft Forms, collect data points with Excel, and use Power BI to collate, manage, analyse, and share interactive data visualisations. Once these steps are complete, organisations can incorporate Microsoft Sway to create a microsite that combines up-to-date data from across the Microsoft suite and third-party websites to present to team members across the business.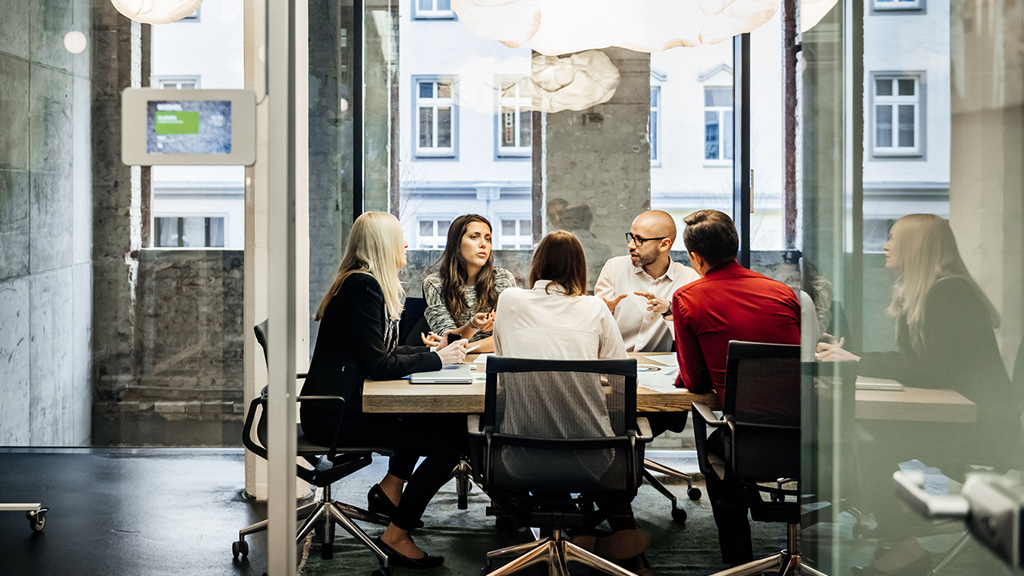 The right technology at the right time
Using the right technology to support each phase of the cycle of work can help team members be more productive, unleash their creativity, and enhance collaboration. The suggested technology to support the review phase includes:
Microsoft Forms and Microsoft Purview to capture feedback and collate data points across multiple sources

Microsoft Excel

, Power BI, and Visio to develop dashboards or other data visualisations to report back to project leads or sponsors
Microsoft PowerPoint, Outlook, Sway, and

Teams

to present results or outcomes to participants.
Where to from here?
While reviewing is a crucial phase in the cycle of work; it's not the final one. To learn more about the cycle of work and how the Microsoft product range can help you maintain productivity regardless of whether you work in the office, remotely, or via a hybrid approach, download the eBook.  
ASI Solutions aligns directly with Microsoft's vision of empowering every person and organisation to achieve more. ASI Solutions can coach your business to deliver each step of the cycle of work so you can achieve optimum outcomes. To find out more about how ASI Solutions can help you embrace the modern cycle of work, contact the team today. 
Click here to read the next blog in the series.